According to the song from Rodgers and Hammerstein's musical Carousel, "June is bustin' out all over!" That is so true right here in Santa Ynez Valley that we don't know if one month can even hold all the fun we have in store! Our towns of Ballard, Buellton, Los Alamos, Los Olivos, Santa Ynez and Solvang have put together some great activities to get your summer off to a rollicking start. We've got reasons galore for you to schedule a June weekend getaway in Santa Ynez.
One of the things people like to do most on a visit to Santa Ynez Valley is enjoy samples of some of the local wines, but that can be difficult to accomplish in just one weekend. That's why the Santa Ynez Valley Wine Country Association is offering The Summer Pass. Take your time and enjoy samples at various tasting rooms throughout the Santa Ynez Valley for just $45, through August 31, 2017.
And don't miss the Solvang Third Wednesday celebration on June 21. This is a day to walk, shop, wine and dine – all in the village of Solvang:
Participating Solvang wine tasting rooms, wine bars and beer bars offer a special discounted tasting opportunity with the Solvang 3rd Wednesday Wine & Beer Walk (3-7p.m.), where you can enjoy 2 tastings at 5 places of your choice, for just $20 per person.
Participating Solvang merchants offer 3rd Wednesday deals on merchandise and the Solvang Farmers Market offers freshly-harvested produce and gourmet goods.
Select Solvang restaurants feature a special 3-course Solvang 3rd Wednesday menu. The 3-course menus include ingredients sourced straight from the Market.
Since it is the "longest day of the year," we'll be celebrating "Midsommer Musik" with free, live music throughout the Village of Solvang, from 12 noon to 12 midnight.
But wait, there is more!
Dads, Grads, Olives and More June Activities in Santa Ynez Valley
There are plenty of fun events in Santa Ynez Valley all month long, but don't miss these special June activities in the Santa Ynez Valley:
Three Cheers for Dad! Father's Day is Sunday, June 18, but instead of another tie this year why not spoil dad with a trip to Santa Ynez Valley? What does he like to do most? Whether he enjoys beer, wine, great food, golf, biking, hiking, gaming, or just spending time with his loving family, we can make it all happen right here.
Congratulate the Graduate! If your amazing student is graduating from high school or college, bring him or her to Santa Ynez Valley for a celebration weekend. We can hook you up with some great family adventures like horseback riding, hot air ballooning, or even soaring.  
Father's Day "BBQ-Out-Back": Follow the Father's Day BBQ signs to The Bear and Star's back garden for a casual and social barbecue picnic experience. Guests will enjoy a "down home" cooked meal prepared from our 30′ custom reverse-flow Texas smoker and view the tender meats and treats coming hot off the grill. Musical artist Colby Lee Huston will perform throughout the day in the back garden. No reservations are accepted for this event and seating is unreserved group seating at picnic-style tables. The Bear and Star will also be serving our complete fresh ranch menu on Father's Day for lunch and dinner in the restaurant. More info here.
Community Day At Wildling Museum: Free admission day to the Wildling Museum. You can see current exhibits, shop the gift store, buy work by the feature local artist and get creative at the drop-in art activity. A fun family event. (All day on Wednesday June 21st, 1511-B Mission Drive, Solvang, CA 93463, Free admission, Call (805) 686-8315) more info here.
Let the Romance Begin! We can't tell you how many people fall in love in the Santa Ynez Valley. With our balmy days, romantic nights, and welcoming communities, it's hard not to. Whether you're new to a relationship, getting engaged, getting married, going on a honeymoon, or celebrating an anniversary, this is the place to be. We're here to help plan a joyous bachelorette party, an elegant wedding at one of the local vineyards or venues, or the most romantic honeymoon ever.
Old Santa Ynez Day is a fun-raising day for local schools. Join us June 10 for this long-standing day of festivities in downtown Santa Ynez featuring a parade, booths, food and FUN. Organized by Santa Ynez Valley Elks Lodge #2640.
Enjoy the Sport of Kings: The 6th Annual SYV Polo Classic returns to Piocho Ranch at Happy Canyon Vineyard in Santa Ynez on June 24. All guests are invited to dress for the occasion, with creative hats for the ladies encouraged. At the conclusion of the featured match, an awards ceremony is conducted at midfield for guests to gather, mingle with the players, and view the presentation of awards.
The Gourmet Girls Go Camping Cooking Demo and Lunch – Saturday, June 10th, Noon – 2:00 The Gourmet Girls Go Camping Cookbook is a must-have for anyone who loves to camp in style and enjoys delicious food prepared in the great outdoors. And now the Gourmet Girls, as well as Buttonwood's own Gourmet Girl At Large (Seyburn Zorthian) will take you on a virtual campout under the beautiful Buttonwood trees. See the demo, taste the results and pair with estate grown wines. Ticket price includes lunch with wine and a copy of the cookbook, which the Gourmet Girls will be happy to sign.
Movies in the Park – Friday, June 16, at Buellton Oak Park, 401 Sycamore Drive, Buellton. Friday, June 23, at Solvang Park, corner of Mission Drive & First Street, Solvang. Fun starts at 7:30pm. Movies start at dark. Fun for the whole family with fresh popcorn and hot chocolate. Bring a blanket or chairs. Call (805) 688-PLAY for showings.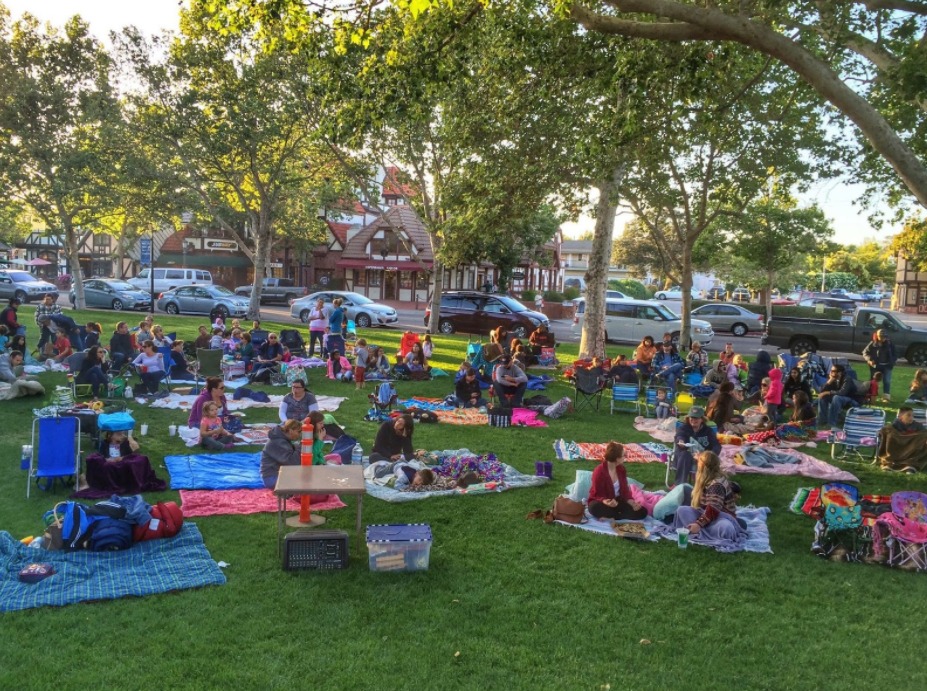 The Pacific Conservatory Theatre presents the enchanting "Beauty and the Beast" at the outdoor Solvang Festival Theater from June 15 through July 2, 2017. You'll be swept away in this "tale as old as time." The Broadway musical tells the story of Belle, who feels trapped in a provincial town, and a prince who is trapped under the spell of an enchantress in the form of a Beast. If the Beast can learn to love and be loved, the spell will be broken and he will be returned to his former self. If not, he and his household will be doomed for all time. There is a Father's Day Special happening on Sunday, June 18. Take Dad to the theatre and enjoy 25% off the adult single ticket.. Order online and use coupon code BEAUTY18 (no limit).
Just when you've caught your breath from June, it's time to start thinking ahead. Make plans now to celebrate the 4th of July with us, and don't forget the annual celebration of Danish Days from September 15-17.
Visit our website at VisitSYV.com before coming to the Santa Ynez Valley for a listing of Santa Ynez hotels and Santa Ynez Valley restaurants. You'll also find a complete listing of things to do in Santa Ynez Valley, in case this hasn't given you enough ideas!
About VisitSYV.com: Visit Santa Ynez Valley provides listings of the best Santa Ynez wineries, best places to eat in Solvang, Santa Ynez hotels and inns, and things to do in Santa Ynez Valley. Visit the website at www.VisitSYV.com for complete travel and visitor services. "Like" the Facebook page for ideas on planning Santa Ynez vacations. Email [email protected] for help planning your next vacation in the Santa Ynez Valley.